A promising young life was cut tragically short on Saturday, 21 May. Richard Collins III, a student at Bowie State University (BSU) in Maryland, was visiting friends at the University of Maryland (UMD), enjoying a weekend celebrating his upcoming graduation. At around 0300, while waiting for an Uber near a UMD bus stop, he was approached by a hostile man screaming racist obscenities who ordered him to "step left if you know what's best for you." From the Huffington Post:
"The FBI is considering the fatal stabbing of a black college student a possible hate crime after learning the suspect is a member of a white supremacist Facebook group. Sean Christoper Urbanski, a 22-year-old student at the University of Maryland, has been charged with first- and second-degree murder as well as first-degree assault following the recent slaying of Richard Wilbur Collins, a senior at Bowie State University. The UMD Police Department enlisted the help of federal law enforcement after discovering Urbanski's connection to "Alt-Reich: Nation," a racist Facebook group that posts disparaging content about African Americans and other minority groups.
Collins was visiting UMD during graduation weekend when Urbanski allegedly stabbed him early Saturday morning. The BSU student was waiting for an Uber near a UMD shuttle bus stop with a couple of friends when a screaming Urbanski allegedly approached the group around 3 a.m. Witnesses told police that Urbanski was intoxicated and incoherent as he shouted at Collins to "step left if you know what's best for you," according to court documents obtained by News 4 Washington. After Collins refused, Urbanski allegedly thrust a "3 to 4 inch silver blade" into the victim's chest. When police arrived on the scene, they found Collins bleeding and laying on the sidewalk as Urbanski sat on a bench roughly 50 feet away."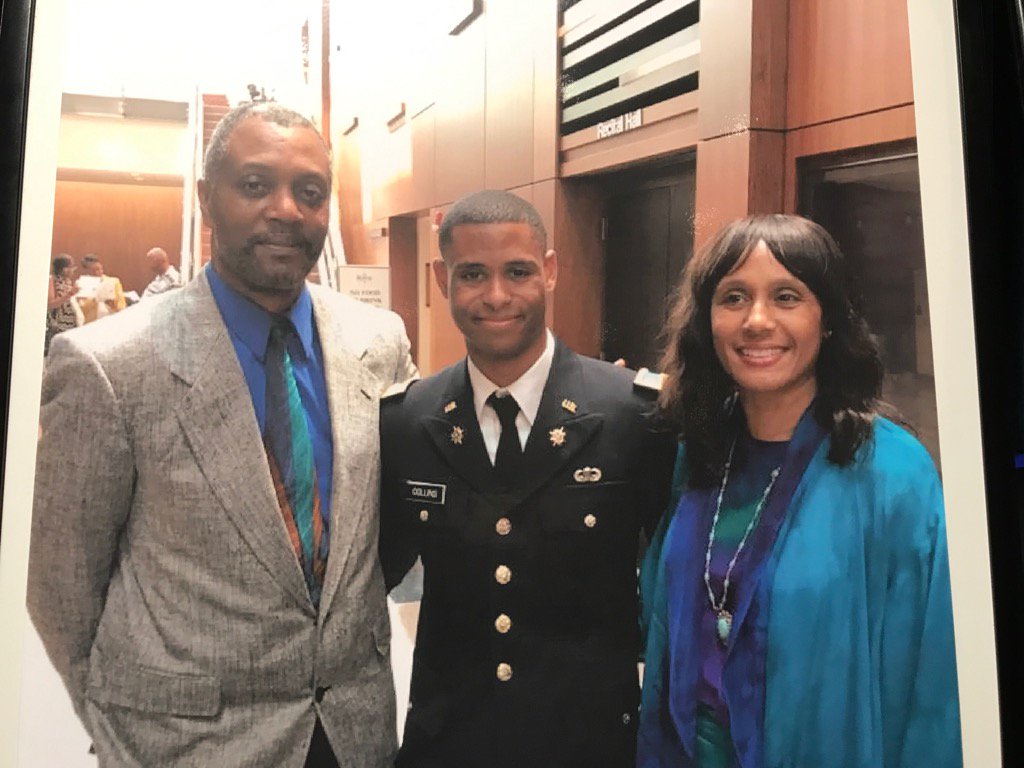 Richard had been commissioned as a 2nd Lieutenant in the United States Army just two days prior to his brutal, senseless murder. Today would have seen him graduate with honours from Bowie State University. Instead, his father accepted his degree, which will be posthumously conferred on another student. A moment of silence was held during the commencement ceremonies, and an empty chair draped with his graduation gown was in the front row seating.
I know that this offends many, but I don't really give a shit. Me talking about racism when it horribly impacts whole families, not just myself, isn't "overtly focusing" on it or being "racially charged." The hate-filled, shit-spouting coward who committed this crime is the one keeping racism alive – not me. A useless, inbred shitstain on the fabric of humanity felt the need to take the life of another human being because of a diseased belief that skin colour makes one superior or inferior. The sickest thing in all of this, are the people who directly contribute to this nonsense by spewing lies in offices, schoolrooms, houses of worship, and / or the privacy of their own homes. A father and mother are mourning their son tonight, hearts breaking as they see that empty chair. Joy and dreams shattered in an instant, all because of the rampant disease of racism – and very few seem genuinely interested in even trying to find a cure.