20 Sep 2017 Comments Off on Injustice…
by sepultura13 in politics, Racism, Uncategorized, Various Topics Tags: #BlackLivesMatter, 2017, Bruce Cofield, domestic terrorism, Donald Smart, hate, ignoring obvious signs, inustice, murder, myriad musings, racism, random ramblings, sepultura13
…comes in many forms. The most obvious form is what occurred last Friday, when the cop who murdered Anthony Lamar Smith in 2011 was acquitted of the crime. Jason Stockley shot and killed Mr. Smith with an AK-47, then tried to plant phony evidence justifying the murder. He gets off scot-free, thanks to the new "justice" department under klansman Jefferson Beauregard Sessions.
Just yesterday, a racist scumbag was arrested in Baton Rouge, Louisiana, after murdering two Black men over a two-day period last week. Ken Gleason, 23, shot Bruce Cofield, 59, and Donald Smart, 49. From BBC News:
"A suspect has been arrested in the US state of Louisiana for the murders of two black men, which authorities said were "racially motivated". Baton Rouge police have also charged Kenneth Gleason with attempted murder after shots were fired at an African-American family's home.
Investigators say they discovered the 23-year-old's DNA on pistol shell-casings found at the crime scenes. A lawyer for Mr Gleason, who is white, said his client denies the charges. During a search of the suspect's home over the weekend, authorities discovered a speech by Adolf Hitler, as well as cannabis and human growth hormone, US media report.
Bruce Cofield, 59, and Donald Smart, 49, were both shot in separate incidents while walking on the streets of the Louisiana state capital last week. Mr Cofield was homeless, and Mr Smart had been walking to his job as a dishwasher at a cafe popular with Louisiana State University students.
Authorities believe the two victims were first shot from a car before the attacker walked over and continued firing at them as they lay on the ground. The attacks happened two days apart, and police say they believe neither man had any previous interaction with Mr Gleason. Police also believe Mr Gleason may have opened fire on the home of a black family in his neighbourhood, where he lives with his parents. Nobody was injured in that attack.
Baton Rouge Interim Police Chief Jonny Dunnam said on Tuesday: "I feel confident this killer probably would have killed again, and could have potentially created a tear in the fabric that holds this community together." Mr Gleason had just posted bail for unrelated theft charges when he was arrested for the killings. He has been booked on two counts of first-degree murder, two counts of attempted first-degree murder, aggravated criminal damage to property and illegal use of weapon, according to the East Baton Rouge Sheriff's Office."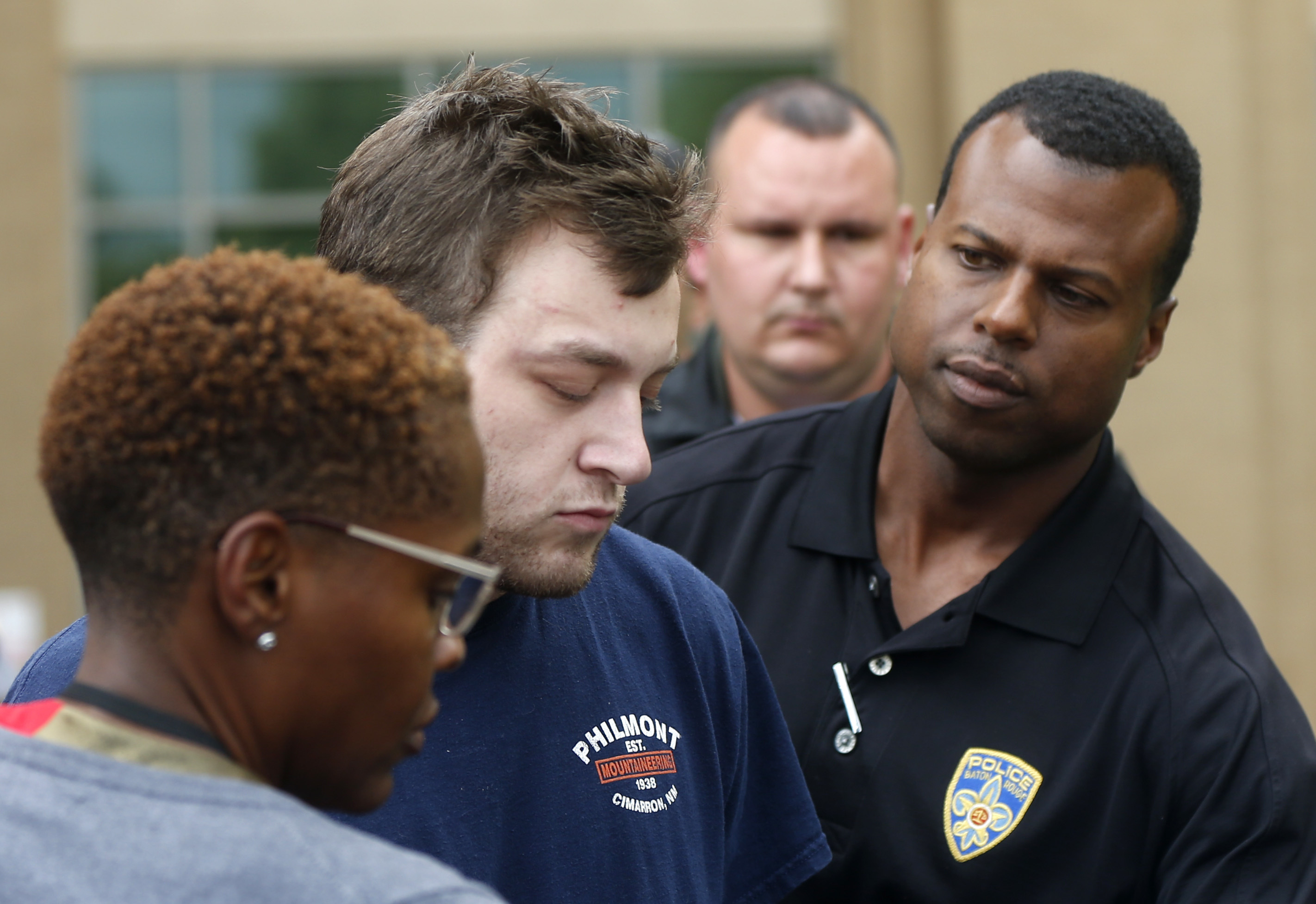 23 years old, and still living with his parents? Typical white-trash loser being enabled by his inbred, white-trash parents. Most likely doing nothing but posting self-righteous bullshit on Facebook and Twitter, while ignoring the festering hatred their words and deeds fertilized. If the narrative follows true to form, the usual empty platitudes of that asshole's family and friends will be spouted: "We had absolutely no idea…" "He wasn't raised that way…" "There was no indication that he would do something like this…"
Bullshit. Those empty words ring hollow, because they are complete and utter bullshit. See, injustice also takes a sinister and covert aspect when people actively, and willingly, ignore glaring red flags – especially when those flags are being waved by their own family members or friends. They tune out the people who are trying to say, "Hey – something isn't right, there." They shut us out and tell us, "Shut up! You have no clue what you're talking about! YOU'RE JUST BEING JUDGEMENTAL!!!" Those people then go on and on, justifying the unjustifiable, excusing the inexcusable, and defending the indefensible. Then they act all shocked and surprised when a horror such as this occurs.
Pathetic.