This "5 on Friday" post from October deserves a re-blog. Happy Friday, everyone!

😎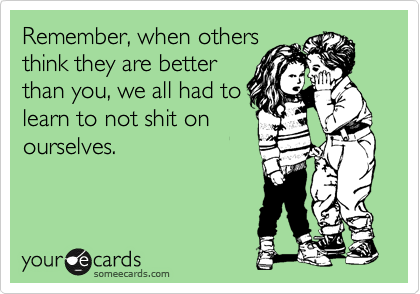 Have you ever noticed this specific blogging phenomenon known as the "my blog is better than your blog" attitude? I see it often, and it always reminds me of high school interactions or shitty co-workers. These bloggers know everything about everything, and feel the need to troll or spam other bloggers with their arrogant, know-it-all personal attacks.
Some petty little asshat recently got all butthurt over me asking it to respect the boundaries of my blog. Sorry sunshine, you have your own blog. You do your shit your way, and I'll keep on keeping on doing my shit my way. Because, you know, this is MY blog. I've never told you what to write, have I? That answer would be no. So, don't tell me what to write, m'kay? It's pretty fucking simple, but even simplicity is far above the heads of some.
With that, here are the five rules…
View original post 319 more words