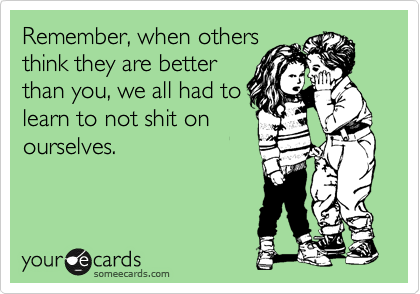 Have you ever noticed this specific blogging phenomenon known as the "my blog is better than your blog" attitude? I see it often, and it always reminds me of high school interactions or shitty co-workers. These bloggers know everything about everything, and feel the need to troll or spam other bloggers with their arrogant, know-it-all personal attacks.
Some petty little asshat recently got all butthurt over me asking it to respect the boundaries of my blog. Sorry sunshine, you have your own blog. You do your shit your way, and I'll keep on keeping on doing my shit my way. Because, you know, this is MY blog. I've never told you what to write, have I? That answer would be no. So, don't tell me what to write, m'kay? It's pretty fucking simple, but even simplicity is far above the heads of some.
With that, here are the five rules that I have for myself when blogging, and have stuck to them from day one…for the most part!
😎
1. Don't react to other people's inane bullshit. What they say isn't about you – and if it is, it is most likely baseless bullshit. If they don't know you personally, then what they say is moot.
2. Respect the rules of another's blog. If you aren't sure what those rules are, then ask – don't assume.
3. Don't jump in the middle of a conversation in the comment sections of other people's blogs, especially if you really don't care about the topic being discussed. Saying something just to get attention is weak, and egging others on is pathetic. Let them duke it out verbally. Just grab the popcorn and watch the fun!
4. If you comment, be sure that the comment is about the topic. It makes no sense to mention murder victims on, say, a post about photography or planning a wedding – and yes, I have seen those very comments. It is also a good thing to keep in mind if responding to a person's comment on a blog which isn't yours or theirs. Derailing conversations is pathetic.
5. Last, but certainly not least: just have fun! Write, write, and write some more – there are no limits for the truly creative! Some people need prompts or other tips to get ideas, and that's fine – not everyone is dependent on grade-school level topics. I find that adults tend to appreciate adult things, and 'Adult' doesn't always mean sex-heavy or gratuitous pornography. For me, it means that I will use adult language from time to time!
Those are my personal blogging rules for myself, which spill over into gaming and any other online interaction I might engage in. They're straightforward, and they work for me. With that, enjoy these three songs to get the weekend started early!