A tiny bit of justice came about yesterday. I say 'tiny' because, while it was unexpected, it was overshadowed by the colossal injustices which have occurred in the past week. Since there's not been a peep about these events, I figured I'd post them here.
First off, the bit of justice was for the family of Walter Scott. Remember him? Of course you don't. Let me refresh your short, collective memories. He was the unarmed Black man, shot multiple times in the back by a hate-filled cop who claimed that he was acting in "self-defense." The cop pleaded guilty, but only after some pathetic plea deal was reached. The plea deal dropped two other charges against the murderer, who will most likely get a slap on the wrist when he is sentenced. Those of us who know how things work in the real world will be surprised if he gets life in prison, because the likelihood of that is slim to nil.
Next up, this little tidbit out of Texas. On Saturday, 29 April, 15-year-old Jordan Edwards was shot and killed by yet another racist cop. He was shot in the head while leaving a party with his friends and one of his siblings in Balch Springs. The cop was fired, but that is probably as far as it will go. Texas isn't known for being a bastion of good sense, that's for sure!
Next, the travesty surrounding the cold-blooded murder of Alton Sterling in Louisiana. He was shot point-black in the chest as multiple cops held him to the ground. The excuse? He was reaching for one of the officer's guns. Yeah, right. I believe that just like I believed the cop claiming he shot Walter Scott in the back because he "feared for his life." At any rate, the Department of (in)Justice, now headed by that inbred, racist, white-trash sack of shit named Jefferson Beauregard Sessions, is refusing to charge the officers involved in Alton's murder. Sad to think that this is just the tip of the iceberg.
Fame doesn't protect us from being harassed by hate-filled fucks, either. Adam Jones, a center-fielder for the Baltimore Orioles, was treated to Boston "civility" when Red Sox fans hurled peanuts and racial slurs at him during a game on Tuesday. The Orioles won the game, so Bostonians showed their true colours that night. Adam was given a standing ovation at last night's game as a token 'apology.' Gee. How mighty white of you, Boston! That makes it all better, right? 70 years after Jackie Robinson broke the colour barrier in Major League Baseball, and this is still the bullshit that Black players have to deal with.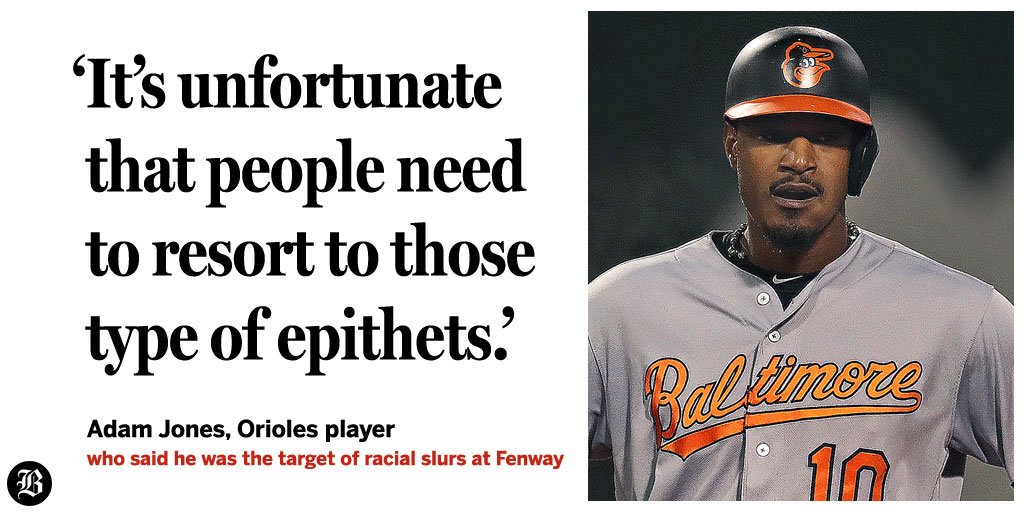 Even here, on my humble little blog, racist assholes still try to get their silly, inane, nonsensical comments through. The overt ones are almost comical in their attempts, while the covert ones insult my intelligence, make subtly condescending remarks, and go overboard with verbose word-salad. I guess they think that if they throw enough words around, I'll get confused. Sorry, that trick doesn't work on me. When you know how a trick works, the magic and mystery of it vanishes. It doesn't hurt that I grew up in a part of the USA that allowed me to encounter both overt and covert racists, so I can smell either a mile away. You'd think that they'd be too busy starching and ironing their crinoline petticoats, pointy white hats, and long white robes for their weekend "re-enactments" to bother with me! Just goes to show how little sense those people have.