08 Dec 2016 Comments Off on Protected: Godspeed, John Glenn…Tribute Post
by sepultura13 in Uncategorized, Various Topics Tags: 2016, Discovery, Friendship VII, godspeed, John Glenn, links, Major Tom (Coming Home), Mercury team, Music, myriad musings, notable passings, outer space, pictures, R.I.P., random ramblings, Rocket Man, sepultura13, Space Oddity, The Right Stuff, the space race, tribute
08 Dec 2016 Comments Off on Happy Birthday, Jim…
by sepultura13 in Uncategorized, Various Topics Tags: 2016, birth anniversary, Jim Morrison, Music, myriad musings, pictures, R.I.P., random ramblings, sepultura13, The Doors, tribute
James Douglas "Jim" Morrison: 8 December 1943 – 3 July 1971
Today marks the birth anniversary of the late, great, former frontman for the rock band The Doors – Jim Morrison, the self-described "Lizard King." He was a singer, songwriter, poet, and a fiery Sagittarius. He was incredibly talented, but plagued by alcoholism and drug addiction. Those addictions most certainly contributed to his untimely death at the age of 27 in Paris, France. He is interred at at Père Lachaise Cemetery in eastern Paris. From Wikipedia:
"James Douglas Morrison was born in Melbourne, Florida, the son of Clara Virginia (née Clarke) and Rear Admiral George Stephen Morrison, USN,[11] who commanded US naval forces during the Gulf of Tonkin incident, which provided the pretext for the US invasion of South Vietnam in 1965. Morrison had a sister, Anne Robin, who was born in 1947 in Albuquerque, New Mexico; and a brother, Andrew Lee Morrison, who was born in 1948 in Los Altos, California.
His ancestors were Scottish, Irish, and English.[12][13] In 1947, Morrison, then four years old, allegedly witnessed a car accident in the desert, in which a family of Native Americans were injured and possibly killed. He referred to this incident in the Doors' song "Peace Frog" on the 1970 album Morrison Hotel, as well as in the spoken word performances "Dawn's Highway" and "Ghost Song" on the posthumous 1978 album An American Prayer. Morrison believed this incident to be the most formative event of his life,[14] and made repeated references to it in the imagery in his songs, poems, and interviews.
His family does not recall this incident happening in the way he told it. According to the Morrison biography No One Here Gets Out Alive, Morrison's family did drive past a car accident on an Indian reservation when he was a child, and he was very upset by it. The book The Doors, written by the remaining members of the Doors, explains how different Morrison's account of the incident was from that of his father. This book quotes his father as saying, "We went by several Indians. It did make an impression on him [the young James]. He always thought about that crying Indian." This is contrasted sharply with Morrison's tale of "Indians scattered all over the highway, bleeding to death." In the same book, his sister is quoted as saying, "He enjoyed telling that story and exaggerating it. He said he saw a dead Indian by the side of the road, and I don't even know if that's true."[15]
Raised a military brat, Morrison's family moved often. He spent part of his childhood in San Diego. He completed third grade at a Fairfax County Elementary School Fairfax County, Virginia. His father was stationed at NAS Kingsville in 1952, he attended Charles H. Flato Elementary School in Kingsville, Texas. He continued at St. John's Methodist School in Albuquerque, New Mexico, and then Longfellow School Sixth Grade Graduation Program from San Diego, California.[16] In 1957, Morrison attended Alameda High School in Alameda, California.[17] He graduated from George Washington High School, now George Washington Middle School, in Alexandria, Virginia in June 1961.[16] Cass Elliot also attended high school there, that same year.[18] Morrison read widely and voraciously—being particularly inspired by the writings of philosophers and poets. He was influenced by Friedrich Nietzsche, whose views on aesthetics, morality, and the Apollonian and Dionysian duality would appear in his conversation, poetry and songs. He read Plutarch's "Lives of the Noble Greeks and Romans". He read the works of the French Symbolist poet Arthur Rimbaud, whose style would later influence the form of Morrison's short prose poems. He was also influenced by William S. Burroughs, Jack Kerouac, Allen Ginsberg, Lawrence Ferlinghetti, Charles Baudelaire, Molière, Franz Kafka, Honoré de Balzac and Jean Cocteau, along with most of the French existentialist philosophers.[15][19][20] His senior-year English teacher said, "Jim read as much and probably more than any student in class, but everything he read was so offbeat I had another teacher (who was going to the Library of Congress) check to see if the books Jim was reporting on actually existed. I suspected he was making them up, as they were English books on sixteenth- and seventeenth-century demonology. I'd never heard of them, but they existed, and I'm convinced from the paper he wrote that he read them, and the Library of Congress would've been the only source."[21] Morrison went to live with his paternal grandparents in Clearwater, Florida, where he attended classes at St. Petersburg College (then known as a junior college). In 1962, he transferred to Florida State University (FSU) in Tallahassee, where he appeared in a school recruitment film.[22] While attending FSU, Morrison was arrested for a prank following a home football game."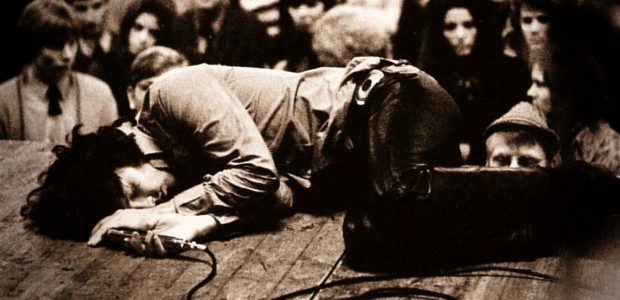 I was introduced to the music of The Doors in junior high school, when I first began doing volunteer work at the local radio station. The first song that I played on the air was "Light My Fire," which finally gained me some favour amongst my classmates from then on. It was nice to be liked for my eclectic musical tastes for once in my life – but my tastes will always make others uncomfortable! I'm beyond caring about things like that, these days. I like what I like; always have, and always will. I chose these three Doors songs as my little tribute to Mr. Mojo Risin' – enjoy them or don't; I know that I do!